After years of slumming it in an aging building, the New York Islanders are moving to the snazzy Barclays Center in Brooklyn … and they're bringing a stylish team with them.
Indeed, the Isles may boast the ideal mix of talent to resonate in The Land of the Hipsters, especially if head coach Jack Capuano sports these glasses.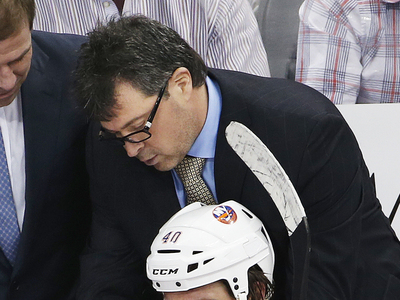 (Sure, they're not as natural a fit for Brooklyn as Dan Bylsma's lids, but you can't win them all.)
The Islanders' potential seems like a mystery, at least beyond the likelihood of the team being fun to watch.
Could a division title be a possibility? Maybe a deep run?
You'd think that the group GM Garth Snow assembled should at least win a playoff series for the first time since 1993. The Isles boast a little of everything: an outstanding offense featuring John Tavares, a solid defense including Johnny Boychuk and steady goaltending.
If nothing else, maybe more casual hockey fans will realize just how special Tavares is. In the meantime, we have accounts like the one Jonathan Quick shared with The Players' Tribune:
Just like with [Sidney] Crosby, Tavares doesn't kill you with one thing, he kills you with how insanely balanced his game is in all aspects. Tavares can deke you, or roof a shot, or make a great pass, or if nothing is there, he'll do the smartest thing and chip it in deep to live another day. He's similar to Crosby in another way, too. He's one of the most tenacious guys I've ever played against. A lot of guys that skilled might choose to work the perimeter and wait for their linemates to open up space for them. Tavares gets right into the dirty areas and mucks it up. You'll see him score just as many greasy goals as pretty ones.
He could help the Islanders be a trendy choice in 2015-16.